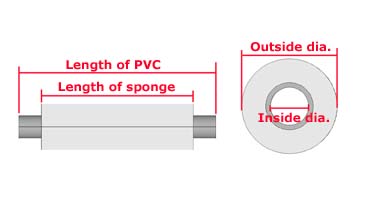 Major uses:
The PVA roller can be applied to any wet process for drying.
1.Cleaning and drying of substrate, curved glass, glass products.
2.Cleaning and drying of precision electronic equipment like LCD substrate, printing circuit boards (PCBs), conducting wire frame, film, filter film, and mask.
3.Cleaning and drying of plastic film or plastic board materials
4.Cleaning and drying of tires or mats
5.Various types of water-soluble adhesives, anti-static material, paint can be applied using the PVA SPONGE.
Product Feature:
1. Exellent performance on absorbency and retention capacity for water(800% - 1000% wt).
2. Flexible and soft character, reduces scratching the surface, provides the same result even for rough surface.
3. Dust-free character and excellent performance on dust cleaning, suitable for dust-free room.
Product specification:
See Figure P-1,
With PVC core, Outer dia. x Inner dia. x Length of sponge x Length of PVC core
Without PVC core, Outer dia. x Inner dia. x Length of sponge
If you have other request, please supply your detail drawing for your requirement.